COVID-19 Preventative Treatment
EVUSHELD
Combination gluteal injection of cilgavimab and tixagevimab
Pre-Exposure Prophylaxis (PrEP) of COVID-19 in individuals at least 12 years old and at least 88 pounds (40 kg)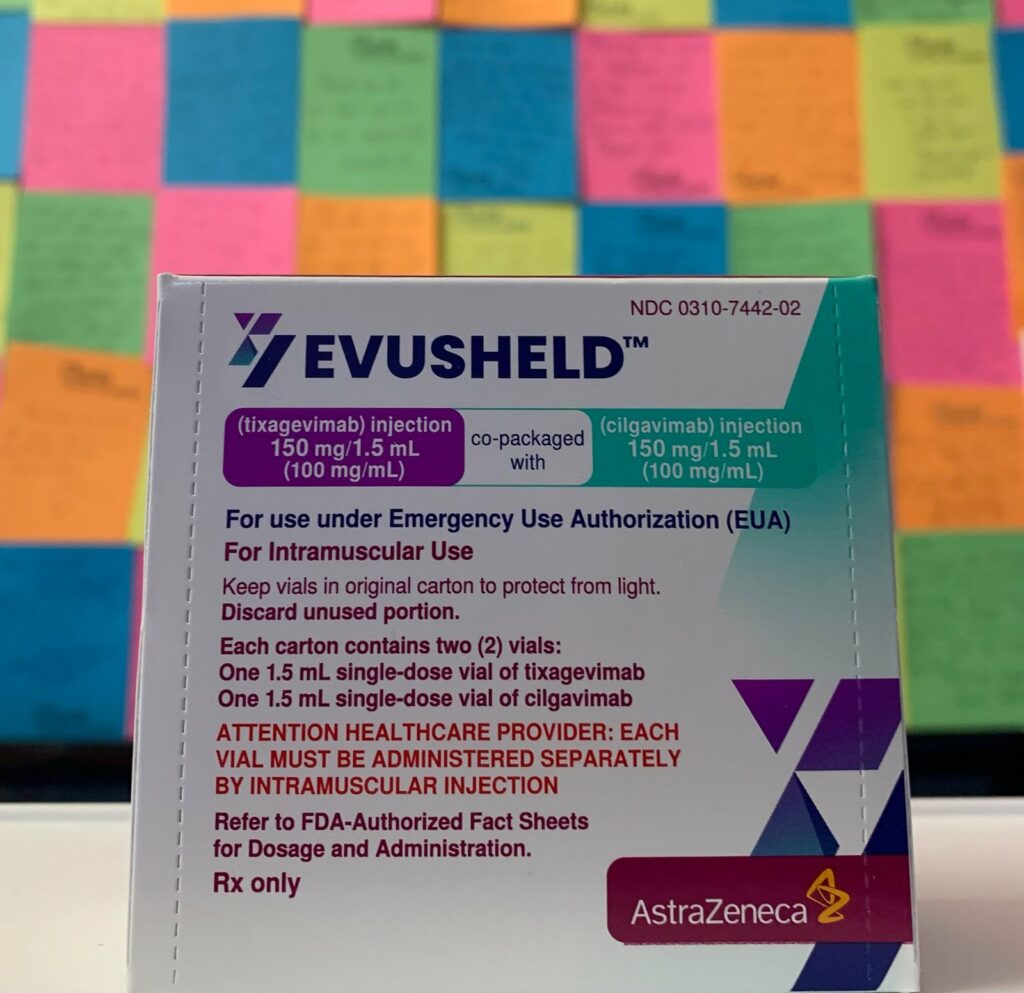 The FDA has authorized an Emergency Use Authorization (EUA) to make Evusheld available for pre-exposure prophylaxis. Evusheld is NOT currently FDA approved for any use.  Evusheld is currently the only option for pre-exposure prophylaxis (PrEP) of COVID-19 besides the vaccine. Evusheld is not a substitute for the COVID-19 vaccination, and for individuals eligible for the vaccine it is recommended to get vaccinated. 
Who can receive Evusheld?
Use is for individuals at least 12 years of age and at least 88 pounds (40 kg) who are not currently infected with COVID-19 and have not had recent exposure to an infected individual AND
Are  immunocompromised individuals who may not mount an adequate response to COVID-19 vaccination
OR
Individuals in which COVID-19 vaccination is not recommended due to a history of a severe adverse reaction
Evusheld is not recommended for anyone who has had a previous allergic reaction to Evusheld or COVID-19 vaccine.
How do I get Evusheld?
In order to receive Evusheld, a prescription is needed from a licensed prescriber. In addition please fill out our Evusheld Elgibility form to see if you are eligible and a member of our pharmacy will reach out to you regarding next steps. 
Evusheld is 1 dose consisting of 2 separate intramuscular injections given one after the other in the gluteal muscle.
It is recommended to receive a repeat dose every 6 months. I
f you have received a COVID-19 vaccine, Evusheld should be administered at least 2 weeks after vaccination. 
What side effects can I expect after receiving Evusheld?
Evusheld is investigational and is still being studied, therefore there is limited information known about the safety and effectiveness of the medication. Most common side effects are headache, fatigue, injection site reaction and cough. If you experience these or any other adverse reactions after receiving a dose of Evusheld, inform a healthcare provider.
If you develop COVID-19 symptoms, tell your health care provider and test right away. We offer many testing options for COVID-19 at our pharmacy. In addition we also offer Paxlovid as a treatment option in patients with mild-to-moderate COVID-19 symptoms who are at risk of progressing to severe disease. Click the respective links below for more information.