Prevention (Vaccines), Test (Flu Test), and Treat (Antiviral Therapy)
Flu Services Offered at Skippack Pharmacy
What are the Symptoms of the Flu?
Common symptoms include: muscle aches, fever with chills, sore throat, cough, fatigue, headache, runny or stuffy nose. Additional symptoms may include burning sensation in the chest, and eye pain, sensitivity to light, nausea, vomiting, and/or diarrhea.  Someone who may have flu may present with one or more of the above symptoms or none at all but the best way to protect yourself is by getting the flu vaccine.
Since many of the symptoms of the flu overlap the symptoms of COVID-19, it is best to receive both vaccines.
The flu is spread through small particles (called droplets) in the air from the respiratory tract of an infected person. This can be done through talking, sneezing, or coughing.  Flu can also be spread through indirect contact by touching contaminated surfaces and touching your eyes, nose, or mouth.
When is a Person Considered Contagious?
Persons can be contagious up to 1 day before symptoms begin and up to 7 days after symptoms become present. The average person becomes symptomatic 2 days following exposure.
What are Some of the Possible Complications of the Flu?
The most commonly reported complications include bacterial pneumonia, sinus and ear infections, worsening of underlying health conditions, hospitalization and death. Myocarditis (inflammation of the heart), encephalitis (inflammation of the brain), and myositis (inflammation of the brain) have also been reported.
PREVENTION: We offer both the 65+ (Senior Dose - FLUAD) and 3-64 Year Old (Standard Dose)
SCHEDULE A FLU VACCINE APPOINTMENT
Who Should Get a Flu Shot?
Flu peak season is typically between October and May.  Most people start getting their vaccines in September. The CDC recommends that everyone 6 months and older* receive a flu vaccination. SKIPPACK PHARMACY will be administering flu vaccines to those 3+ and will have both regular dose (3-64 Year Old) & senior dose (65+ FLUAD) flu vaccines available.  The flu can cause serious health complications for infants, older adults, those with weakened immune systems, those with cardiac and/or pulmonary disease, and pregnant women.
The Centers for Disease Control and Prevention (CDC) highly recommends getting your flu shot this fall to reduce your risk from serious illnesses from flu, including hospitalization.
There are many reasons to get an influenza (flu) vaccine each year. Flu vaccination is the best way to protect yourself and your loved ones against flu and its potentially serious complications.
During seasons when flu vaccine viruses are similar to circulating flu viruses, flu vaccine has been shown to reduce the risk of having to go to the doctor with flu by 40 percent to 60 percent.
Flu vaccination has been shown in several studies to reduce severity of illness in people who get vaccinated but still get sick.
Flu vaccination prevents tens of thousands of hospitalizations each year. For example, during 2019-2020 flu vaccination prevented an estimated 105,000 flu-related hospitalizations.
Flu vaccination is an important preventive tool for people with certain chronic health conditions.
Vaccination reduces the risk of flu-associated acute respiratory infection in pregnant people by about one-half.
Flu vaccine can be lifesaving in children.
Getting vaccinated yourself may also protect people around you, including those who are more vulnerable to serious flu illness, like babies and young children, older people, and people with certain chronic health conditions.
Can I Get the Flu & COVID-19 Vaccine at the Same Time?
Yes, you can receive the flu and COVID-19 vaccination during the same visit. CDC has confirmed the safety of administering both vaccines for adults and children 5 and up at the same visit, but at different injection sites.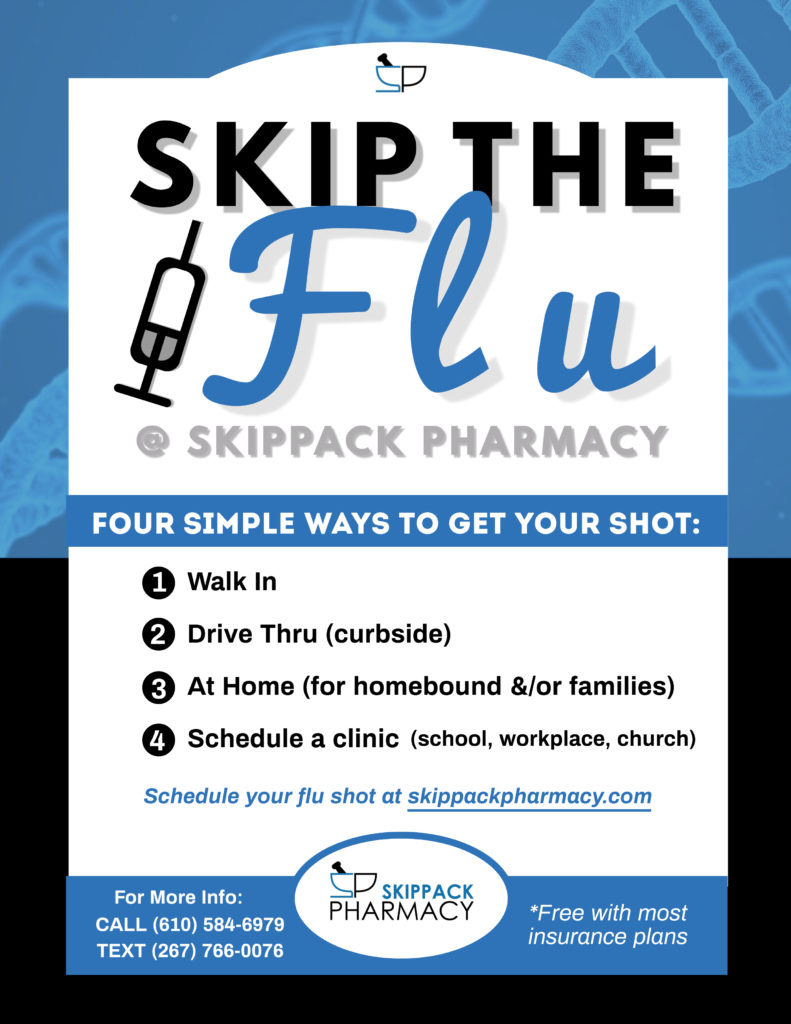 TEST: We offer combined Flu A&B and COVID-19 testing in one swab
SCHEDULE A COMBINED FLU/COVID TEST
Rapid Antigen Combined Test is a single swab test used for both the Flu and COVID-19 virus.  The Rapid Antigen test is used as an aid in the diagnosis of COVID-19 and influenza type A&B. There is no minimum age to get tested (for infants/children, a parent may perform the nasal swab).
Nasal Swab test | Detects the virus when you are most infectious
You will receive your Rapid Antigen results within 30 minutes to 1 hour.  You will be EMAILED results within 30 minutes to 1 hour; however, if you do not see an email in your Inbox or Spam folder after 1 hour, please email lab@skippackpharmacy.com .
The cost of the Rapid Antigen Test is $55.00 (discounted from $100).   $5.00 convenience fee if paying via credit card.  We cannot bill your insurance; however,  you may attempt to submit to your insurance company afterwards.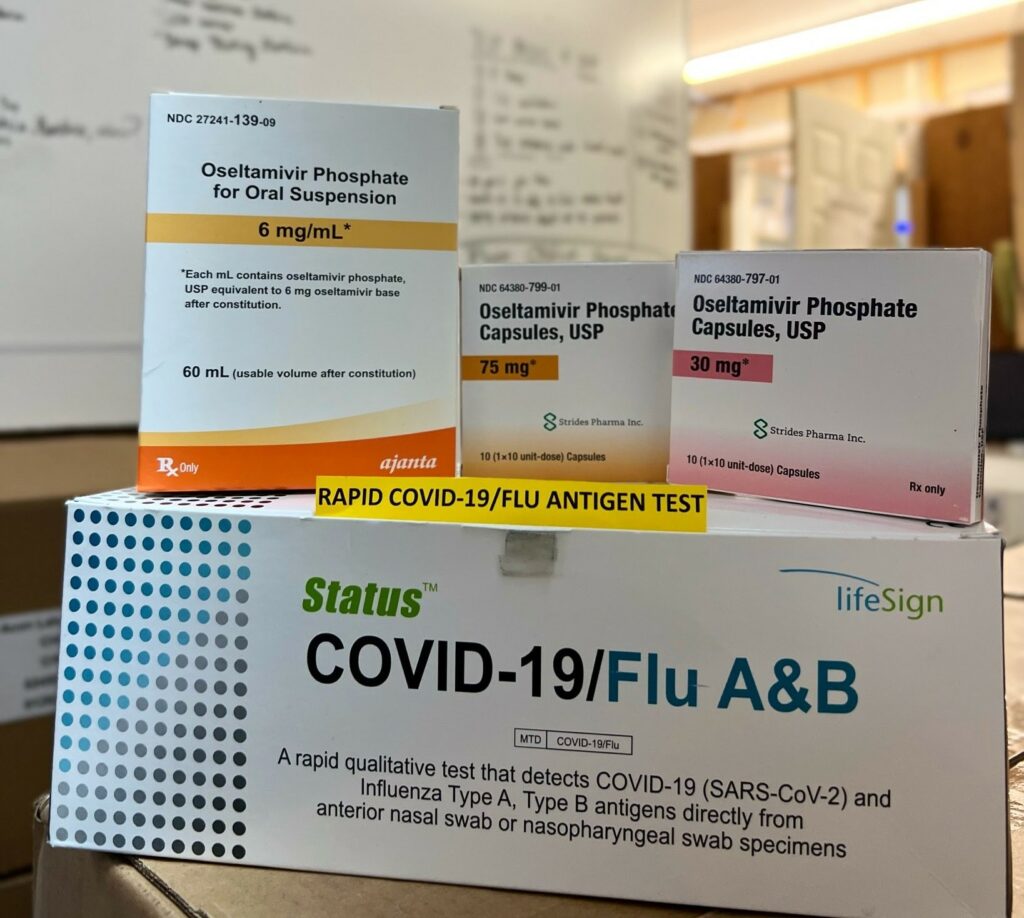 TREAT: We offer over-the-counter, homeopathic, and prescription therapies to help
FLU ANTIVIRAL THERAPY
Test positive for the Flu? We've got you covered! At our pharmacy we have antiviral therapy for treating the flu including Tamiflu capsules and suspensions. Have your doctor send a prescription directly to our pharmacy and we'll take care of you!
In addition, we have lots of over-the-counter supplies for you to stock up on to keep you prepared for this flu season including:
Decongestants

Antihistamines

Cough drops and throat lozenges

Tissues

Multivitamins

Hand Sanitizers

Face Masks and more!
Skippack Pharmacy is the place to go to prevent and treat the flu this year, so stop by today!
Don't have access to a doctor? No problem! We are a test and treat center collaborating with a physician service and can help!