VACCINES FOR CHILDREN
ROUTINE VACCINATIONS FOR CHILDREN
After having vaccinated over 10,000 children since opening its doors to the community in 2018, Skippack Pharmacy is 1 of 2 pharmacies in the state of Pennsylvania who is a trusted partner and official VFC provider in helping children receive the vaccines they need to stay healthy & stay in school.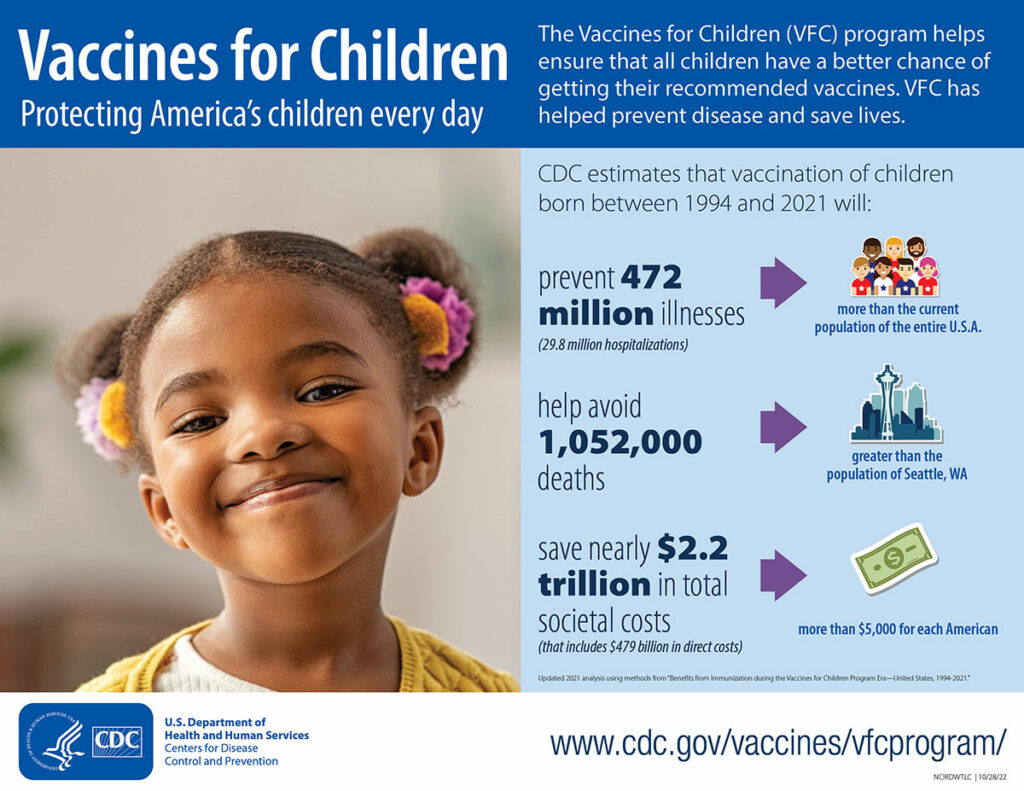 Vaccines for Children Program
The Vaccines for Children (VFC) Program helps provide vaccines to children whose parents or guardians may face financial barriers to accessing them. This helps ensure that all children have a better chance of getting their recommended vaccinations on schedule. Vaccines available through the VFC Program are those recommended by the Advisory Committee on Immunization Practices (ACIP). These vaccines protect babies, young children, and adolescents from 16 diseases.
VFC Questions and Answers
Q: Which children are eligible?
A: Children through 18 years of age who meet at least one of the following criteria are eligible to receive VFC vaccine:
Medicaid eligible: A child who is eligible for the Medicaid program. (For the purposes of the VFC program, the terms "Medicaid-eligible" and "Medicaid-enrolled" are equivalent and refer to children who have health insurance covered by a state Medicaid program)
Uninsured: A child who has no health insurance coverage
American Indian or Alaska Native: As defined by the Indian Health Care Improvement Act (25 U.S.C. 1603)
Underinsured (Underinsured means the child has health insurance, but it either doesn't cover vaccines, or doesn't cover certain vaccines, or covers vaccines but has a fixed dollar limit or cap for vaccines. Once that fixed dollar amount is reached, a child is then eligible.)
Q: How much will I have to pay?
A: The VFC vaccine administration rate is $20 per vaccine (we will collect this at your vaccine appointment).
Q: What vaccines are provided?
A: There are many single and combination vaccines that are licensed in the US and that protect children against 16 preventable diseases. The vaccines available through the VFC are determined by the Advisory Committee on Immunization Practices (ACIP). CDC, as the administrator of VFC, purchases and distributes the vaccines. VFC covers any vaccines included in the immunization schedules:
Q: What diseases are prevented?
A: Diseases that are preventable by recommended childhood vaccines recommended by the Advisory Committee on Immunization Practices (ACIP) include the following. Each disease is briefly described on the 2nd page of the above linked documents.
Diphtheria
Haemophilus influenzae type b (Hib)
Hepatitis A
Hepatitis B
Human Papillomavirus (HPV)
Influenza (flu)
Measles
Meningococcal
Mumps
Pertussis (whooping cough)
Pneumococcal
Polio
Rotavirus
Rubella (German Measles)
Tetanus (lockjaw)
Varicella (chickenpox)